World top 10 Agricultural producing Countries.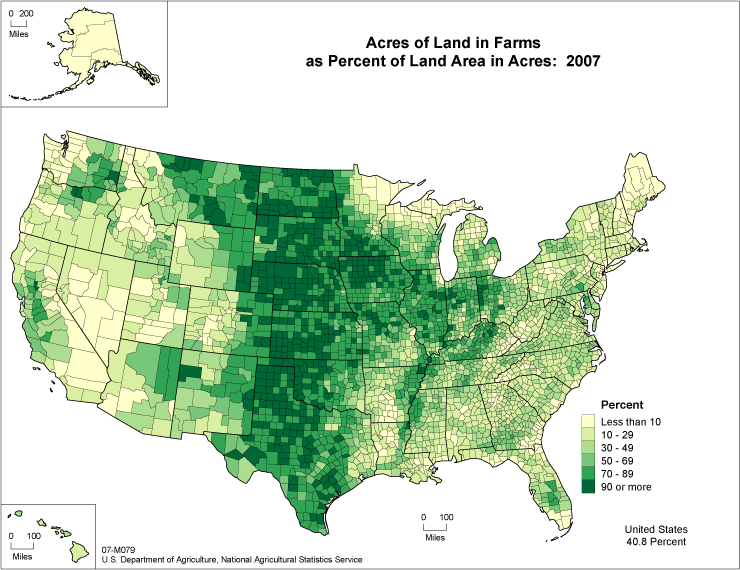 Agriculture is a major part of the world's economy, especially in developing countries. Agriculture is the main source of income, employment, and food. It fulfils all basic human needs. The FAO (Food agriculture organization) estimates that 67% of all people are dependent on agriculture. It accounted for 39.4% of GDP. 43% of all exports include agricultural commodities. In this article, we will provide all information on top agricultural producing countries around the globe.
Many countries that produce agricultural products in developing countries rely on imports for food security and agriculture. As a result, many emerging countries cannot improve their production without significant increases in local production. Nevertheless, agriculture has made significant progress in the past few years.
Let's now discuss the different types of agricultural production.
About 11% of the land in the world is occupied by agriculture, and 26% is used for animal grazing. There are four main types of agricultural production: Food, Fuel, Fiber, and Raw Materials. Below are the top 10 countries that produce agricultural products.
The Top 10 Agricultural Producing Countries Worldwide
These are the top 10 agro-producing countries in the world. Take a look at the agricultural producing countries.
1.

China
China holds 7% of the world's temporary cropland. They provide food for 22% of the world's population. China struggled to feed its huge population in the 20th century. After this, China's agricultural policies and technologies were upgraded to make it self-sufficient and grow. However, China's top economic planning agency warned that this would prove difficult to maintain.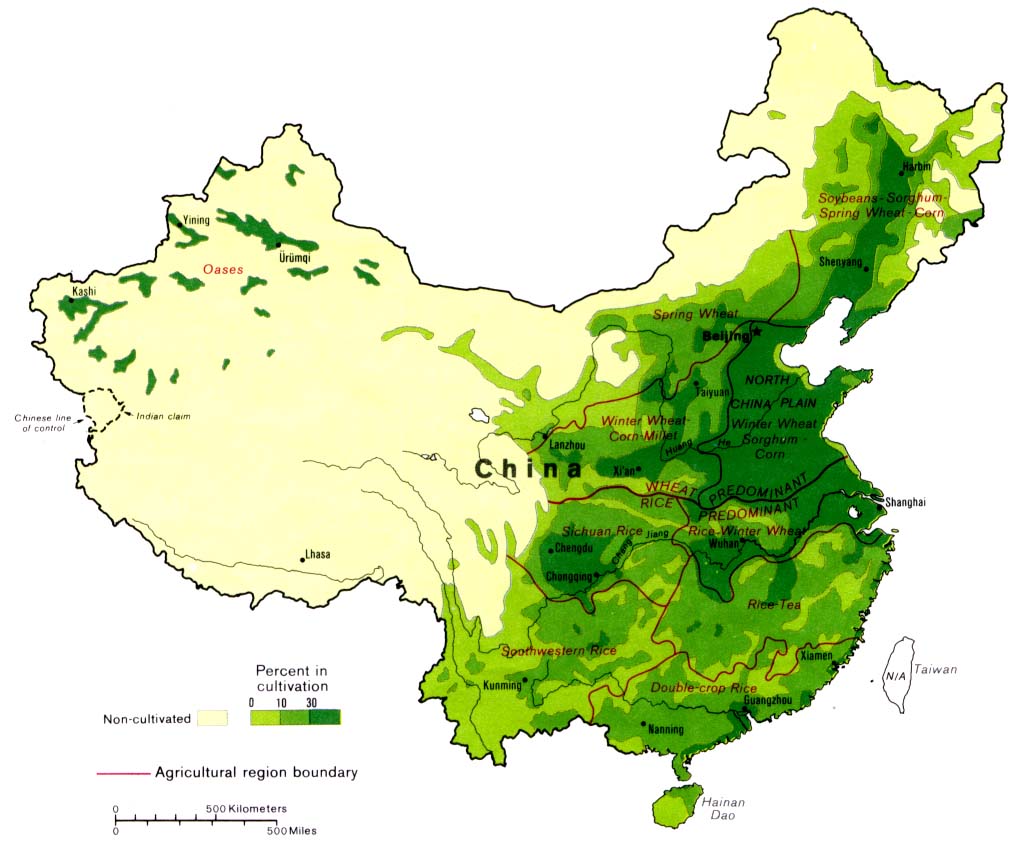 China's Agriculture
China's land is highly used for agriculture.
You can plant vegetables in China, along roads and on many walls.
China lost 1/5 of its arable land in 1949. Today, only 10% to 15% is suitable for agriculture.
China has 545,960 km of irrigated land.
China is the world's largest rice-producing nation. They were able to produce soybeans, kaoliang, wheat, millet and corn.
2.

United States
The United States is well-known for its agricultural science and some of the most advanced agriculture technology globally. The United States is a model country in the agricultural sector. Its agriculture is growing at an increasing rate. This is the development of scientific soil, crop analysis and more innovative machinery. Therefore, we can conclude that the United States is the most advanced country in agricultural technology.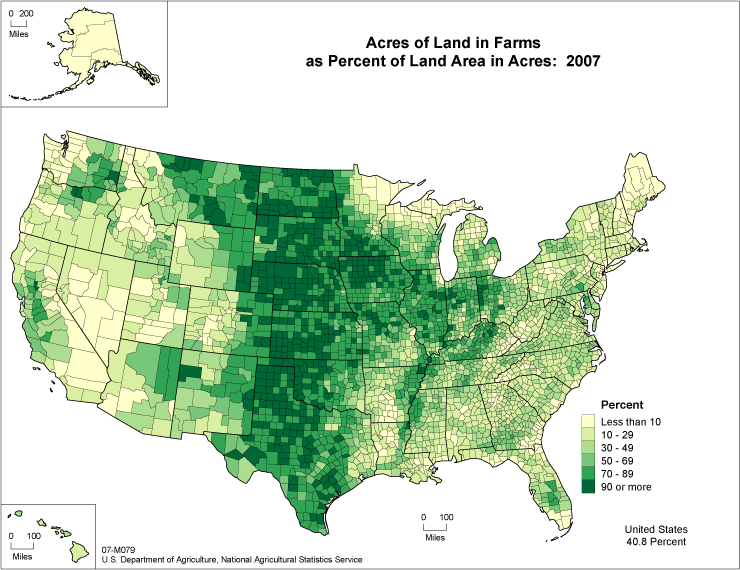 The United States of America: Agriculture
The United States saw an increase in agriculture by 5% each year since 1990. The average annual increase in production for every farmer worker was 0.84% every year. 
The United States is the country that produces the most timber. The government officially owns about 70% of the country's forests, with bounded log logging allowed.
In 2020, there were just over 2million lands in the United States. However, the quantity of farms has been regularly dropping since the year 2007, when there were about 2.2 million farms in the United States
The largest crop in the United States was corn, which produced 247,882,000 tonnes. The second-largest crop was soybeans, which produced 74,598,000 tonnes. The third one was wheat, which grew a total of 69.327,000 metric tonnes.
The United States' major crops include sugar cane, potatoes and coffee.
3.

Brazil
Brazil has been historically one of the most productive agricultural countries. Brazil's agriculture occupies 41% of total land. Brazil has a total land area of almost 2.1 billion acres. The area that is occupied by agriculture in Brazil is nearly 867.4 million acres. Sugarcane was the country's priority in production. Brazil began farming around 12,000 years ago. It has many crops, including sweet potatoes and maize, as well as peanuts and tobacco.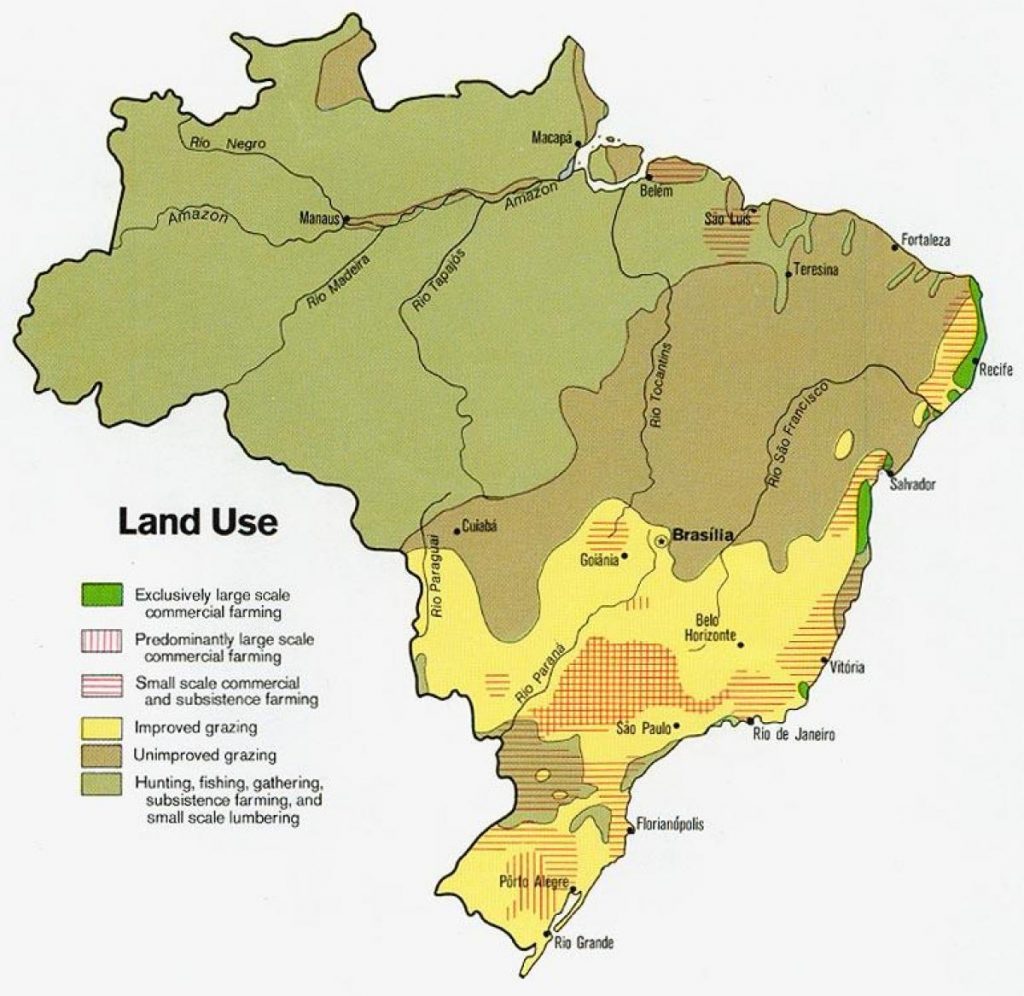 Brazil's agriculture
Brazil is the world's leader in sugarcane production, producing 600 million tons annually.
Brazil is the second-largest soybean producer in the world. These beans are used worldwide in large quantities.
Brazil is the world's largest exporter of coffee with beef and ethanol soybean.
Brazil has approximately 7% of its land area used for soybean production.
 Brazil produces 1/3 of all the oranges on the planet.
4.

India
Indian agriculture is responsible for 58% of Indians' livelihood. Recent data shows that agriculture is the main source of income for about half the population. The share of agriculture in India's GDP increased to 19.9 percent in 2020-21 from 17.8 percent in 2019-20. Indian produces most fruits, including bananas, mangoes, lemons, papaya, guava and vegetables such as chickpeas. India also produced spices such as chilli, ginger, and pepper.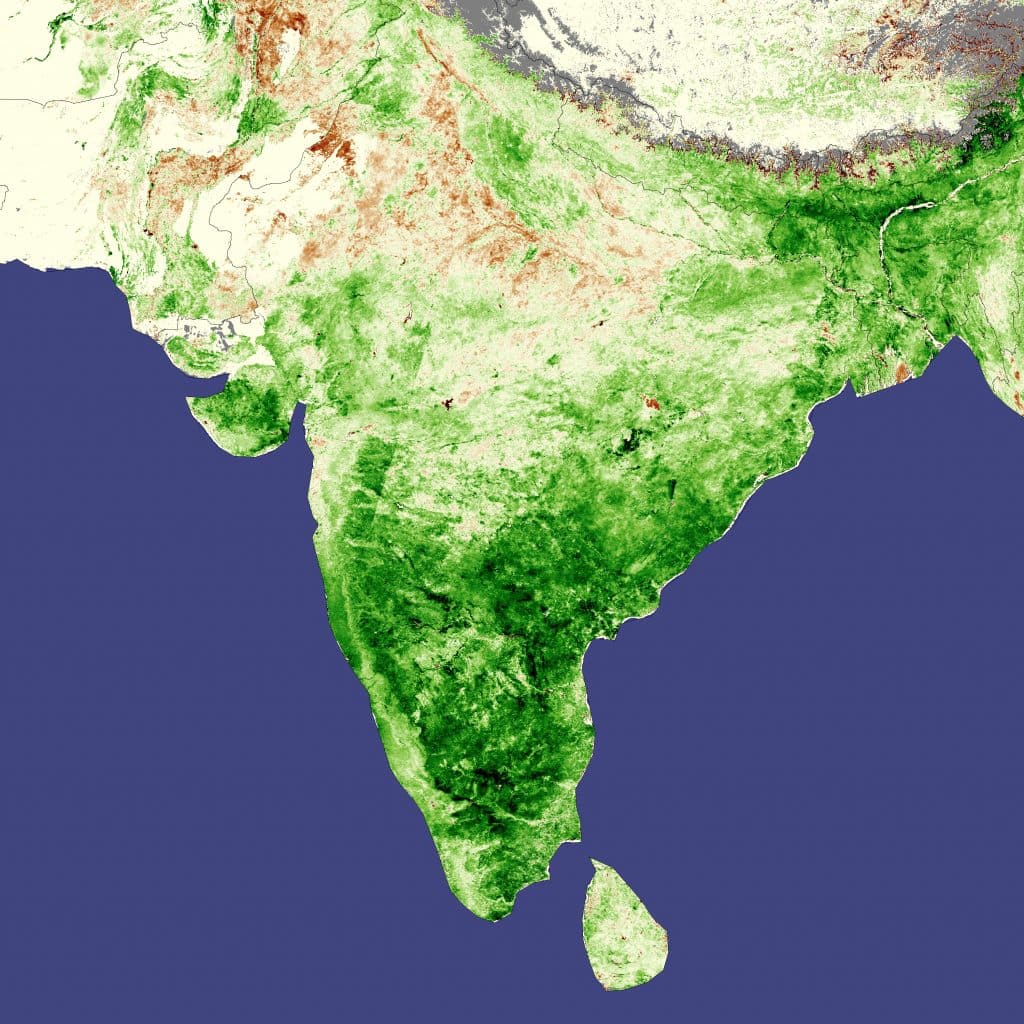 India's Agriculture
India was first in milk production. It also ranked second in dry fruits production. Third in fish production. Fifth in poultry production.
Indian agriculture production has increased by 11% over the last 14 years, from 87 USD bn up to 397 USD.
It covers a total of 96mn hectares and is the largest irrigated area anywhere in the world.
Indian agriculture is complex. It contributes 60% of India's overall agriculture GDP through animal farming and horticulture.
India is the largest producer of wheat in the world.
5.

Russia
Russia has 13% of its agricultural lands used for sugar beet, wheat, and potato production. These cereals include rye, barley, and oats. These are the major crops in Russia. Russia is heavily involved in the industrial economy and has a large agriculture industry. The agriculture sector accounts for approximately 6% of Russia's total GDP. This means that the general population provides 16% of all employment opportunities in Russia's agriculture industry.
Russia's agriculture
Russia has over 23 million hectares of cultivated land. 
Grain cultivation covers about half of the land. It produces 70% of the country's total grain.
Russia's most important food crop is wheat.
This is why beet production has risen tremendously in recent years.
6.

France
France is home to approximately 730000 farms. About 7% of France's population makes a living from agriculture, fishing, or forestry. France is home to almost all people involved in agricultural-related activities, such as the production of agricultural goods and other related activities. This shows that France's population is far too engaged in agriculture.
France Agriculture
France is the largest producer of oilseeds and cereals in the EU. It also produces milk, wine, and beef. Over 29 million tonnes of sugar beets were produced in France.
France is the biggest exporter of alcoholic beverages and drinks. This has seen a 6 percent increase in recent years.
In the last few years, there has been a 12 % rise in flour and cereals and a 7 percent decrease in meat and other animal products.
The average income from agriculture has increased by 4% over the previous period.
7.

Mexico
Mexico's agriculture is a key part of its economy, both historically and politically. Mexico's agriculture is a minor contributor to its GDP. Mexico used to produce avocados, beans, tomatoes, peppers and maize. Mexico is also known for its agricultural exports. Mexico's main feature is its ability to grow crops. Half of Mexico's agricultural output can be attributed to crop accounts.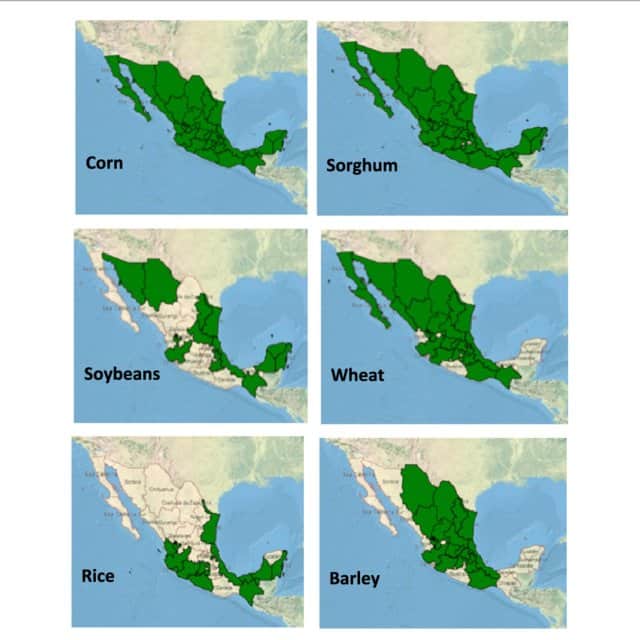 Mexico's agriculture
Mexico's most important crops include wheat, sugarcane and peppers.
They excel in exporting crops such as fruits, vegetables, coffee, and sugar.
Mexico has around 15% of land occupied by agriculture and approximately 50% for livestock.
Mexico produces a large amount of livestock, which includes poultry, milk, eggs and beef.
8.

Japan
Japan's agriculture contributes just 2% to GDP, and approximately 10% of its population lives on farming. They support traditional Japanese food culture, including rice and other vegetables, grains, fish, and vegetables. Japan is home to a large population. The average area of Japanese farms is only 1.2ha (3 acres). They also practice concerted cultivation. The time change has caused rice consumption to decline in 40 years. However, milk, other dairy products and meat have risen significantly. This increases the demand to eat luxury foods.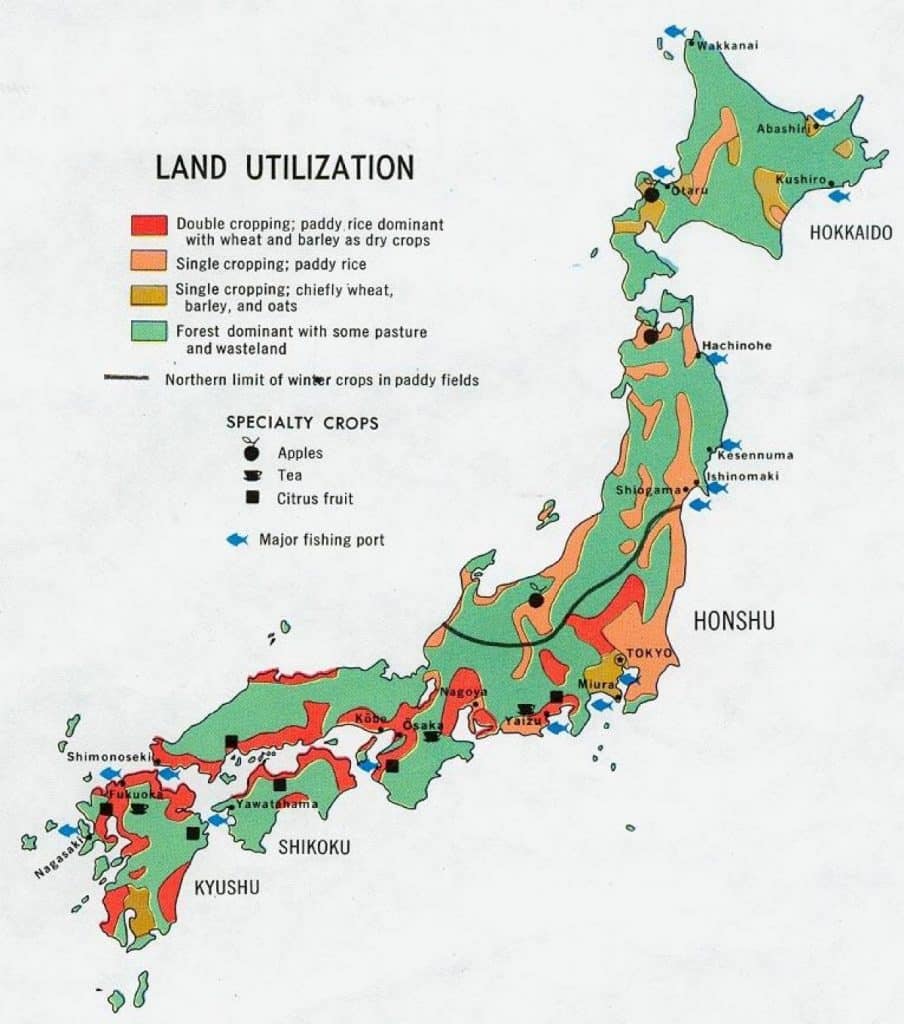 Japan's Agriculture
There are two major types of Japanese agriculture fields: siden and Tambo.
Japan's area under cultivation fell from 6.09 million hectares to 4.65 million hectares between 1961 and 2006.
Japan has approximately 2 lakh hectares of uncultivated land. In Japan, rice production has declined by 20% over the past few years.
Japan's self-sufficiency food ratio dropped from 78% in 1961 down to 39% in 2006. Japan's government now wants to increase it by 50%.
The self-sufficiency rate stood 98 percent for rice, 17 percent for wheat and 11 percent for beef for the financial year 2019
9.

Germany
Germany's top agricultural foods include pork, poultry, and potatoes. In most regions, vegetables, fruits, wine, and other beverages are also available. Agriculture and forestry account for around 80% of the country's land. Family farms dominated the old west in 1997. Around 87% of Germany's farmers own land measuring 124 acres. The vineyards are found in Germany's southern and western river valleys. The agricultural products of Germany vary from one area to the next.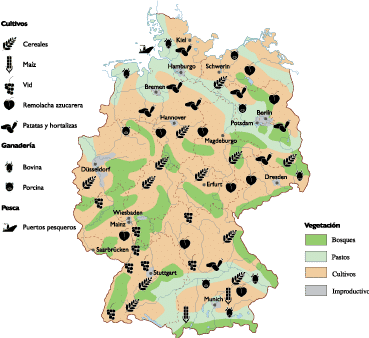 Germany's agriculture
Half of Germany's land area is used for cultivation.
Additional 50% billion euro per annum in agricultural goods, produced by 1 million people.
Germany was ranked third in the world for agricultural goods export. Germany exported around 1/3 of all the products.
Around 10% of Germans are involved in organic farming.
Germany is the 4th largest beer-producing country in the world.
10.

Turkey
Turkey's primary occupation is agriculture. However, there are increasing numbers of service and industrial sectors. Turkey is the only country that can provide its food. The country has a favourable climate, fertile soil, and high rainfall, allowing them to produce every kind of crop. Nearly all regions of Turkey have some form of agriculture. Poultry farming is a big business in mountain areas. This contributes to 1/4 of total farm production. Turkey's most popular grain is wheat. Sugar beet is second, followed by milk and cows.

Turkey's Agriculture
The farmhouse around 100 million turkeys.
In 2018, the sector of agriculture accounted for 19.2% of total employment in Turkey.
It is the largest producer in the world of hazelnuts, figs and raisins.
Turkey is fourth in grape- and vegetable producer.
It is the sixth-largest producer of tobacco.
Country with agriculture as the main occupation
The country with agriculture as the main occupation
Three countries are shown below that have agriculture as their main occupation. As follows
Guinea-BissauWith 55.8% GDP
SomaliaWith 60.2% GDP
LiberiaWith 76.9% GDP
So, these are the top 10 agriculture production countries in this article.