Top 10 Agro-Based Industries In India 2021 | Farmer Scion.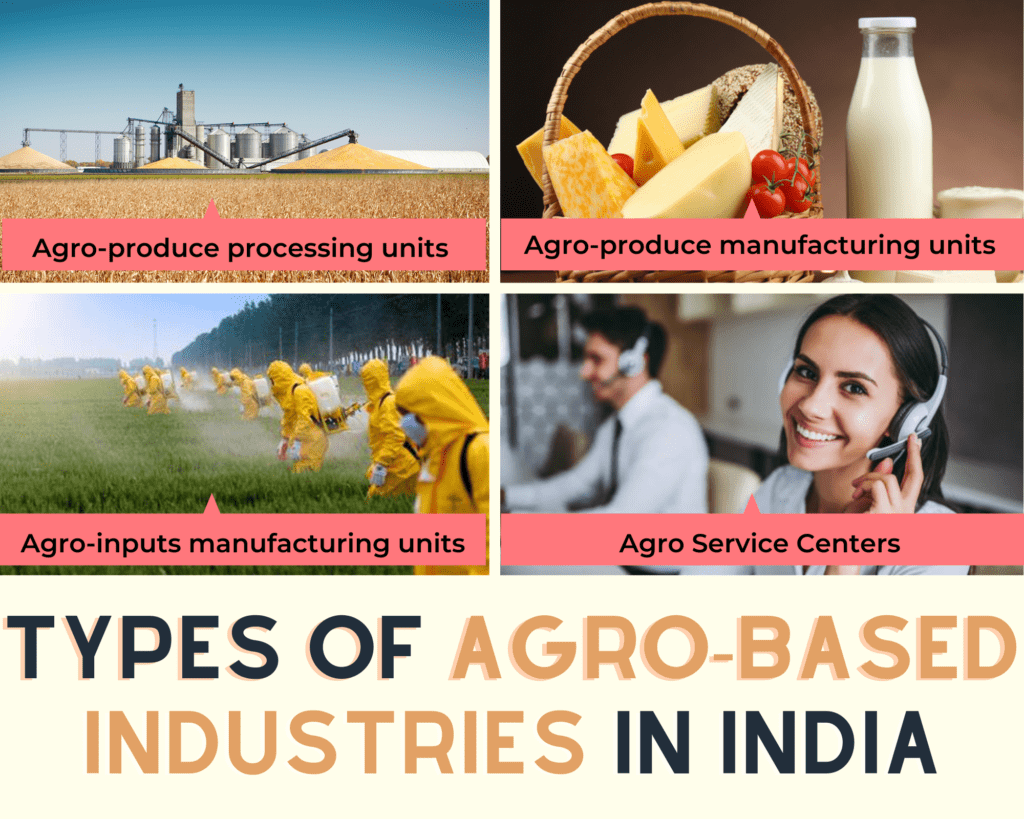 Agro-based industries are booming form the last decades. In this world, 19+ industries are present, but the agro-based industries are the only industry that directly connects to the rural areas.
As per the economic survey, first time in the last 17 years, agro-based industries share 20 percent in a gross domestic product (GDP) in 2020-21.
And this figure is amazing if we are talking about agricultural countries. In India, the agriculture sector contributes 17% to their economy, isn't it unbelievable.
In fact, few industries are to some extent dependent on the agriculture industry, organic farming, like food, pharmaceutical, transportation, health care industry, etc.
What Is An Agro-Based Industry?
Agro-based industries are industries that are directly dependent on agriculture products, crops, agricultural raw materials.
They are processing agricultural output and providing added value to it. And they do the same thing with animal-based products.
Agro-based industries working provide the best value products to their customers from agriculture output.
Types Of Agro-Based Industries In India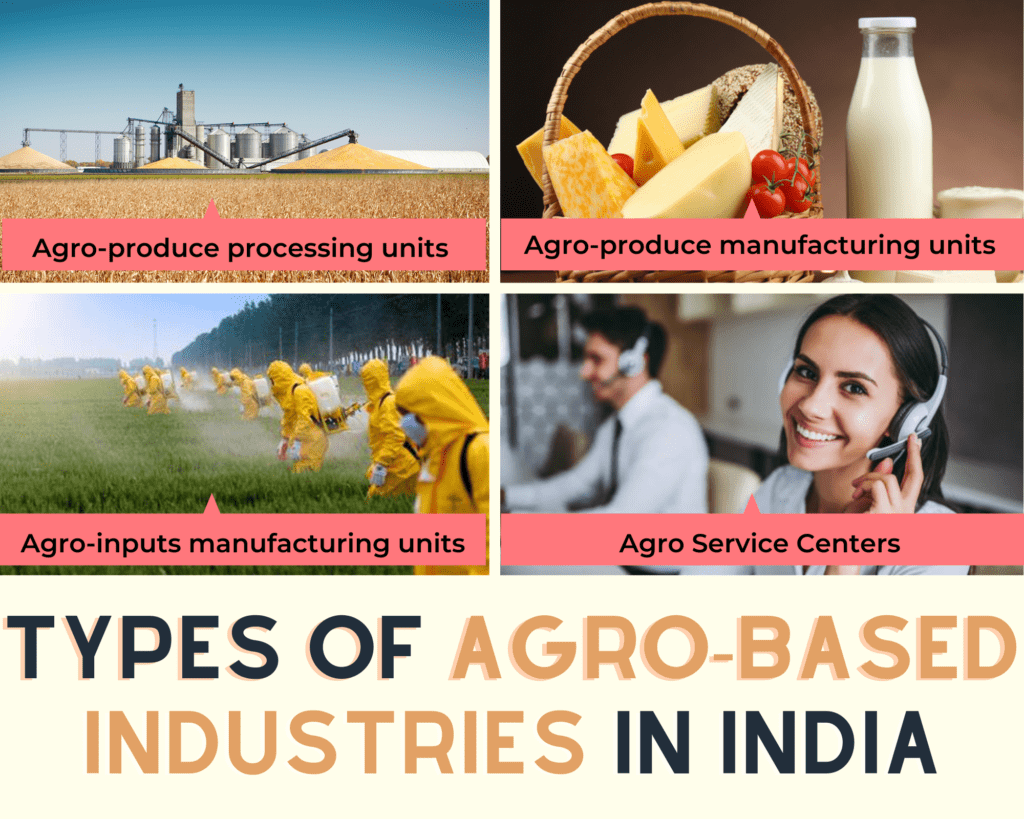 Agro-based businesses are grouped into various sub-divisions depending on the raw materials and the output and service offered by certain. You will find four different Types of agro-based businesses existing on the market, which can be the Following
Agro-Produce Processing Units
This type of agro-based industry buying raw materials from farmers. After that, they cleaning, polishing, preserving the raw materials, and transport them as per demands. they approach the raw substances as a means to grow their own life with the addition of preservatives and pack them as a means to earn their transfer simpler and more economical.
Good examples of agro-produce processing units are crops traders, dal mills, rice mills, etc.
Agro-Produce Manufacturing Units
In this particular unit, agro-based industries manufacture totally new and different products using agricultural raw materials. These are the raw materials that are all changed to goods that are somewhat more acceptable for users. Mostly food industries come under the agro-produce manufacturing units. Indian food market stands at 3rd position in the global market. According to a survey in 2020, there are a huge role of agriculture in indian economy, the revenue of the Indian food industry was $633 billion.
Examples of agro-produce manufacturing units are – dairy products, textile factories, sugar factories, and many more.
Agro-Inputs Manufacturing Units
Agro-inputs manufacturing units help to boost the efficiency or quality of crops, or it's saved from pesticides. Agro-inputs have many types, such as biological, chemical, manure, inorganic compounds.
These components are primarily accountable to its expansion of the agriculture industry while they create products that are favorably accountable for raising the growth of their agriculture industry, for example, its mechanization.
Examples of Agro-inputs manufacturing units are – In-organic fertilizers, Bio-fertilizers, agricultural implements, seed, Plant Growth regulators, feeds.
Agro Service Centers
As per the name suggest agro service center, this unit provides agriculture-related services.
They might be a trader of agriculture tools, running educational workshops for profitable farming, repairing and services, types of machinery like tractors and all agriculture equipment.
Top 10 Agor-based industries in India
Textile Industry
Material Used: Cotton, jute, silk, wool and also artificial fiber.
End-product: attire, home household furnishings etc.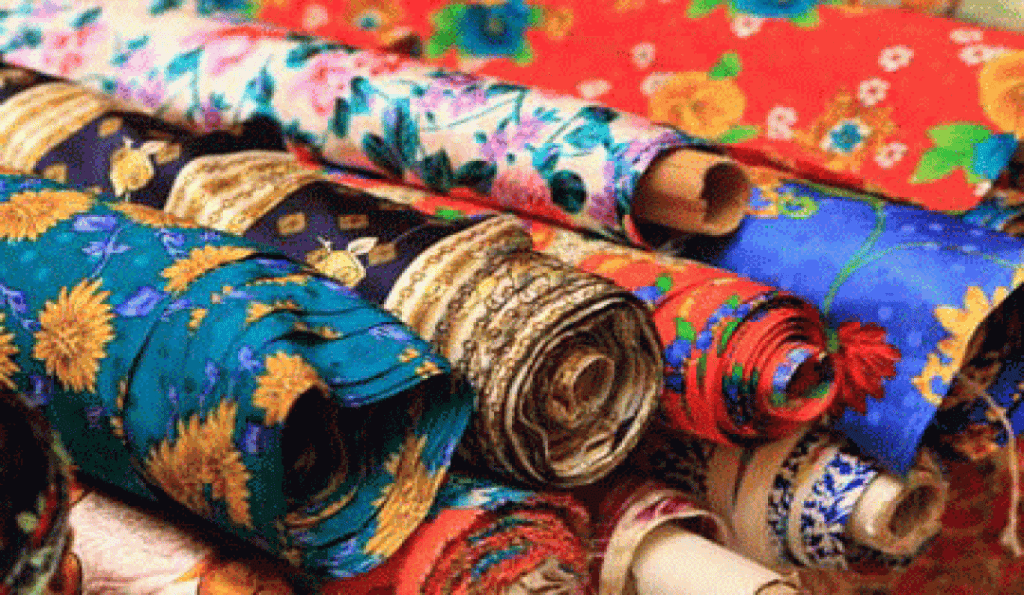 The fabric business could be the greatest agro-based Industry in India. This marketplace addresses the manufacture of clothing. It's a self-reliant Industry that generates everything from raw stuff into this last playoff product for the own customer. It's one of the biggest contributors to the economy of a nation.
Following are divided into different types of industries
Cotton Textile
This particular area name of the fabric industry employs cotton as a raw material to generate its product. Thus, it ensures an important part of its own parent business, and it is now rising at an exact speedy pace.
Woolen Textile
The woolen fabric business in India is partially a cottage business and partially a mill market. This marketplace employs wool of sheep as a raw substance, and the majority of it are located in Northern India.
Silk Textiles
India is the second-largest manufacturer of silk after China; it's necessary as the silk material industry provides in the overall exports'. It employs around 55 lakh people. The particular subject of silk agriculture is popularly called sericulture.
All these are a few sub-divisions of fabric businesses; besides those, its branches also contain artificial fabrics.
Food Processing Industry
Raw Material: All Sort of agricultural produce
End-product: Processed meals
India's food processing business is just one of the biggest food processing businesses on earth, making it the fifth-largest industry in India and probably the very crucial agro-based trade. India's food processing business is just one of the main sections of the market since it supports many people's lives inside our nation by giving them a job. Leading food processing businesses in India comprise as following points.
Dairy Industry
Raw Material: Milk
End-product: Cheese, Cream, Condensed Milk, Dried Milk, Packaged Milk, Ice-cream, butter, etc.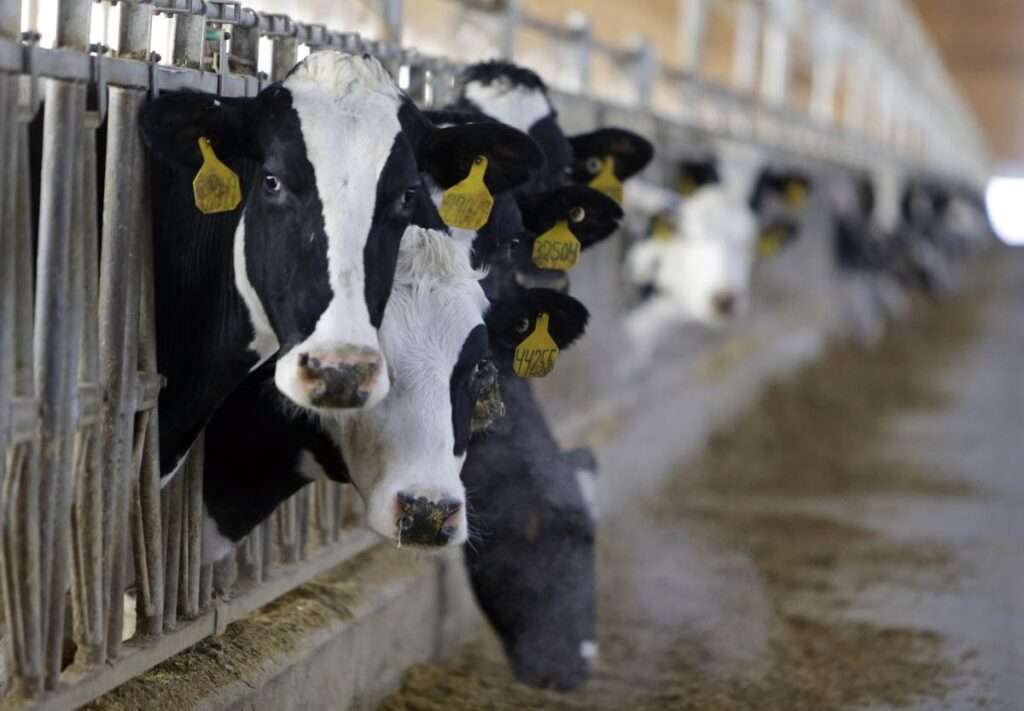 Dairy Industry is currently among the main businesses in India since it leads up to 4 percent of this economy. This is but one of many supplies of second-hand cash flow for farmers in India, giving it probably perhaps one of their absolute most prepared tasks in rural parts of all over India. Its regular practice all over India for its many previous years generated India a 20 percent contributor into its entire world milk production.
Sugar Industry
Raw material: Sugarcane
End-product: Brown sugar, white sugar, Etc.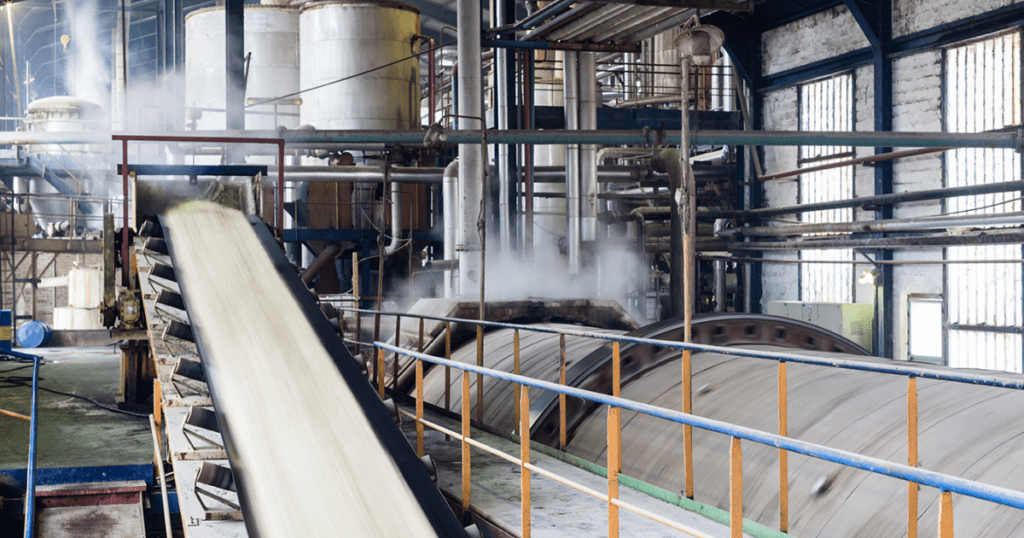 India is the planet's biggest sugar customer since the planet's biggest sugarcane and second-largest sugar-producing nation on earth makes the sugar industry among the absolute most essential agro-based businesses in India. Sugar cane is your essential way to obtain sugar production inside our nation. Thus, though this sugar market supports many people in India, this means support does not continue for your entire year because this business is majorly busy just through the harvesting months of sugar cane.
Vegetable Oil-industry
Raw material: Ginger, peanuts, sunflowers or else their primitive oil
End-product: Edible Oil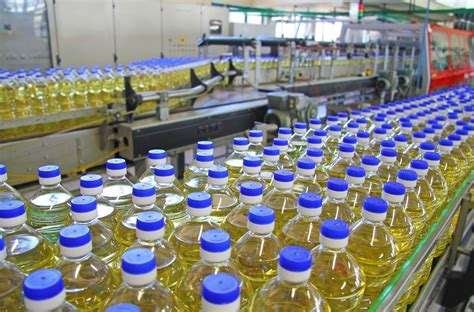 Edible oil could be the most important supply for the source of fat in the Indian Diet. Vanaspati ghee is just a hydrogenated vegetable oil that's commonly utilized in India. Various places utilize various substances depending on the engineering and utilization. Even the most often occurring raw content with this particular industry incorporates mustard, coconut, and groundnut. One of all of the vegetable oil-producing state Madhya Pradesh stays is the largest of oilseed manufacturing.
Tea Industry
Raw Material: Green-tea leaves
End Product: Immediate tea, makeup etc.,
Tea can be your favored drink consumed by both Indians and consequently is its production. Tea is largely cultivated in Assam, West Bengal, also Kerala. The runs all over every season and supplies employment for approximately 1 million folks even though providing a thousand kilos of tea for every year makes it the second-largest tea production country on earth.
Coffee Industry
Raw Material: Seeds or coffee beans
End product: Instant Coffee etc.
Coffee is exceptionally preferred because of the blending quality. Indian coffee has recently uncovered its distinct place due to its different taste. It leads 70 percent of overall manufacturing towards the global market, rendering it the third-largest coffee producer in Asia.
Leather Goods Industry
Raw Material: Cattle hide
End product: Leather goods, wallets, belts etc.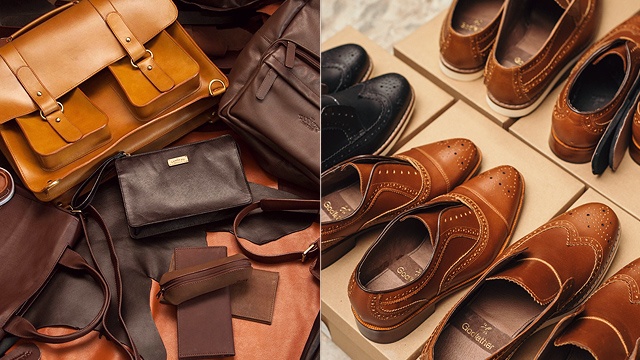 The major raw content with the industry consists of skins and hides that stem from pelts of cows and big creatures and little creatures such as goat and sheep. In India, Kanpur is well famous for leather businesses as it's a number of the greatest and high-grade services and products. This business can be famous for using a huge quantity of younger workforce, thus supplying the state's youth many job chances.
Jute Industry
Raw-material: Jute
End-product: Gunny bags, Hessian, Cabinets, Ropes, Strings, Packing fabric etc.
Jute business is just one among the most well-known businesses in West Bengal since 60 from 70 jute businesses are situated in West Bengal near the Hooghly River banks. Jute business is a significant agro-based Industry since it affirms the life span of approximately 4 million folks from India. Even the jute business is now growing at an exact excellent speed and becoming a valuable portion of our market.
Bamboo Industry
Raw Material: Bamboo
End-product: Furnishings, Plywood, Matboards, Handicraft, Utensils etc.
The bamboo farm is just one of many significant farms in the southern states of India, which makes it a fantastic way to obtain cash flow in these types of nations. Every day we face ecological problems that are now all coming into light; bamboo-based sustainable services and products are now becoming hot, making the bamboo marketplace among the absolute most significant bamboo businesses.
These agro-industries are quite critical because of the country's economy. Because they supply services to a demanding sizable portion of our people encouraging our market. The requirement from such businesses additionally determines the benefit proportion of farmers. Even though several different sides are additionally liable, the moment the last crop is received, it depends on the business requirement. For that reason, agriculture and agro-based businesses are interdependent to get their growth.
Importance Of Agro-Based Industries In India
Due to the huge demand from abroad, we get the international market.
The higher the foreign exchange rate, the higher the profit margin.
Agro-based industries play's important roles to connects villages and cities together
Agro-based industries provide employment opportunities to the youth in the villages.
Improves village infrastructure, development, income source.
When good and big agro-based industries come near the village, the villagers get to learn new technologies and management.
The country's economy improves due to demand from different countries.
Young people consider farming as a business, so they do not rush to the city.
It's changing the way of life in the village.
Farmers also get good prices for their crops, animal-based products, and farm waste.
Problems Faced By The Agro-Industry In India
Small Land Holdings
These small landholdings leave farmers of little scale tough to operate, have to count on subsistence farming.
Seasonal Nature
This Usually Means the farmers Possess a tiny window to experience the benefits of their hard labor. However, recently, environment modification has significantly influenced climate patterns that, in turn, has negatively influenced agricultural production.
Perishable character
Products can perish at certain temperatures, so it demands tremendous infrastructure regarding cold storage, fantastic road transport, etc. Moreover, India faces due to forward linkages and backward linkages.
Variability
Agro-industries include variability In the number and high quality of raw substances. The quantity is unclear due to changes in Weather, soil condition, etc. Quality varies due to the standardization of raw substances continue being deceptive, although there's been progress in plant and animal life. These alterations apply additional stress on agro-industrial components regarding operations associated with the generation, scheduling, and excellent controller.
These are some of the problems that are faced in the agro-industry in India.